The organising committee of IHSA 2016 are delighted to announce that the conference will play host to a workshop on 'Funding Opportunities for Historical Research.' The workshop will take the format of a panel discussion, chaired by the eminently capable and esteemed Professor Dan Carey, of the Moore Institute, NUI Galway. Panelists will include Professor Marie-Louise Coolahan, NUI Galway, Dr. Sarah-Anne Buckley, NUI Galway and a representative from the NUI Galway Research Office.
Prof. Carey, prior to assuming the mantle of Director of the Moore Institute (NUIG's Humanities and Social Sciences Research hub) has a long record of research in his own fields of English literature in the early modern period, relationship between travel and natural history, intellectual history including Locke, the Scottish Enlightenment and philosophies of human nature, the history and philosophy of money in the Enlightenment.
He is an alum of of McGill University, Trinity College Dublin, and Oxford University. His book on Locke, Shaftesbury, and Hutcheson: Contesting Diversity in the Enlightenment and Beyond appeared with Cambridge University Press in 2006. He has previously been awarded a Senior Research Fellowship by the Irish Research Council for Humanities & Social Sciences for his project: 'A Critical Edition of Richard Hakluyt's Principal Navigations (1598-1600).'
Prof. Coolahan is a graduate of Trinity College Dublin (BA 1994), Oxford University (MPhil 1996), and Nottingham Trent University (PhD 2000). Previously she has received a doctoral bursary to work with the AHRB-funded Perdita Project (researching sixteenth-seventeenth century women's manuscript compilations.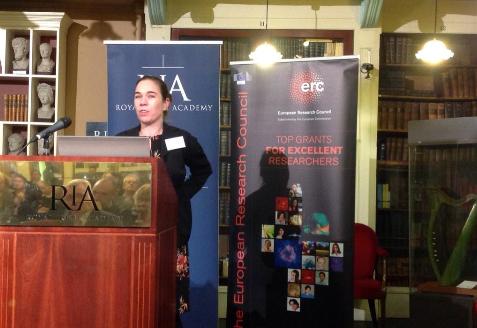 She has been awarded a research fellowship at the Folger Shakespeare Library, Washington D.C., and elected a Fellow of the Royal Historical Society (UK) in 2012. Recently, she secured a European Research Council Consolidator Grant (Principal Investigator) for her project, RECIRC: The Reception and Circulation of Early Modern Women's Writing, 1550-1700 (July 2014-June 2019).
Dr. Buckley works in the Department of History, NUI Galway. Her research interests include the history of child welfare/child protection, gender history, history of family and the history of medicine. She has published on the history of the Haematology Association of Ireland, The Cruelty Man: Child Welfare, the NSPCC and the State in Ireland, 1889-1956.
Recently she co-edited a volume on gender in Ireland with Dr Rebecca Barr and Dr Laura Kelly which was published in 2015. In 2015 she was awarded a Charlemont Scholarship for research on Irish foundlings in London.
In order to increase audience participation in this event, we're inviting your questions in advance. To join the conversation, go to @ihsa2016 on Twitter and add the hashtag #workshop and your question, or Facebook and post your question in the Workshop thread. Help shape the debate!
*
Images & Information from: www.newyorkirisharts.com, www.nuigalway.ie, www.ria.ie, Fulbright Ireland.